Teacher Joins Students in Going Back to School
     At West Texas A&M University, graduate student Renee Sprinkle was getting her student ID picture taken when the photographer suddenly shouted, "It's never too late!"
     Despite the endless stresses of teaching and the worry of a global pandemic, Sprinkle, a Randall High English teacher, is pursuing a master's degree in English Literature. Sprinkle said she has enjoyed working toward her degree online which helps her balance her life.
     "Because of COVID a lot of (classes have) been online," Sprinkle said. "They try to offer an in-person and an online class. For me with my job, it's been a lot easier to do online."
      Sprinkle then went on to explain what prompted and motivated her to return to school for her master's degree.
     "I literally had a sticky note on my file cabinet for years that said, 'number one get masters' like it was something that I could just mark off," Sprinkle said.  "I wanted to accomplish this dream. (Having a master's) has helped me walk into some more advanced classes." 
     While still prioritizing her classroom and students, Sprinkle pointed out some possible ways that her master's could further her teaching capabilities.
     "A master's degree really takes a look at how books have illustrated life in bigger pictures, like how has this book looked at the economy? Or how does this book look at the environment or feminism?" Sprinkle said. "Those big ideas, that lens, is what (my students) have to write through."
     Although Sprinkle considers earning a graduate degree to be worthwhile, she acknowledged that it has presented some challenges.
     "I have to read like a maniac," Sprinkle said. "If I have to drive somewhere, my husband will drive me so I can read in the car. Every spare second I'm doing something (for my degree)." 
     Ultimately, Sprinkle has considered the process toward obtaining her master's degree to be an invaluable experience and offered a piece of advice to others who wish to pursue graduate school.
     "(Earn your degree) before you have kids," Sprinkle said with a smile.  "Getting a master's degree is a huge commitment. Every class is like you're taking two classes. It's really time consuming."
Leave a Comment
About the Contributor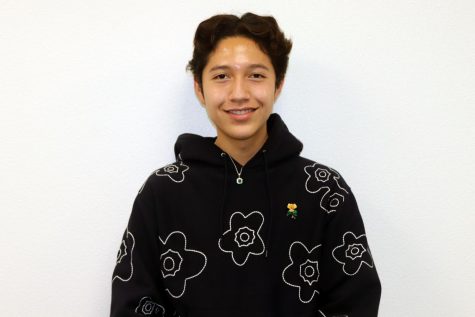 Ethan Silva, Staff Writer, On Air Talent, Podcaster


Ethan Silva is a senior, and this is his first year first year in broadcasting. He is staff writer, on air talent, and podcaster for the Silver Streak...